Available in: German
Krabi Beaches: The Krabi region is one of my favorite regions of Thailand. Beautiful beaches, oh what am I saying, dream beaches, stunning landscapes, gorgeous islands, great food – just to feel good. In this article I want to introduce you my 7 favorite beaches of Krabi and tell especially, of course, why these beaches are like in my selection.
Krabi beaches – the 7 best beaches in Krabi Province
1. Koh Poda
On this small island is my favorite beach. The water is turquoise and clear and a few colorful fish swimming around in the water. There are no rocks in the water and so the swimming makes really fun. In addition, the views of Ao Nang and the surrounding area is amazing.
How to get to Koh Poda:
By long tail boat from the beach in Ao Nang. There are ticket counters near the beach. A ticket for the longtail with round trip from Ao Nang to Koh Poda costs 300 baht per person. On the island directly must again pay a fee for the National Park, where the island is located, to be paid. For tourists or foreigners is this 100 Baht.
---
2. Phra Nang Cave Beach
The beach is actually on the mainland of Krabi, but is accessible only by boat. During the day there are many boats here on the spot to bring the visitors on the beach and a few boats where you can buy drinks and food. The beach has fine, soft sand and the water is also great for swimming. Climbing makes it here as well, because the rocks are well suited for this. The views of Koh Poda and Chicken Iceland is not to be despised.
How to get to Phra Nang Cave:
Same as in Koh Poda. The price in this case is 200 Baht per person for round trip.
---
3. Ao Nang Beach
The beach itself is a perhaps still not quite so special. Unfortunately, the water is not crystal clear, but still relatively clean, so that you can go swimming there. The Ao Nang Beach makes for me but especially the scenery from. Off the coast you will see many of the islands such as Koh Poda, Chicken Iceland, etc. and also the rock walls in Ao Nang itself is very impressive. At low tide you can make beautiful, long walks on to the next beach at Centara Grand Hotel. The sunsets are really nice in the scenery.
How to get to Ao Nang:
From Krabi Town driving taxis, shared taxis or buses to Ao Nang. From the airport in Krabi, there is a direct shuttle bus for 150 Baht in the small beach town. Who is already in Ao Nang, the worry about arrivals no need to make. 😉
---
4. Klong Muang
Really beautiful Klong Muang Beach is at the southern end of the village of the same name. There are plenty of trees that provide shade and the water is great for swimming, as there are not many stones in the water. Klong Muang Beach is up to a few hotels and bungalow resorts still relatively undeveloped to tourists. So here everyone can find a place for themselves alone.
How to get to Klong Muang:
By taxi from Ao Nang to Klong Muang all the fun will cost 500 Baht – per direction. It is better, therefore, to rent a scooter for 150-200 baht per day and drive the 15 km itself. The roads are not too bad and the traffic is very limited, so it should be feasible for everyone. Definitely cheaper and more especially freer alternative.
---
5. Lo Sa Ma Bay, Koh Phi Phi Leh
A small, beautiful beach in Lo Sa Ma Bay on Koh Phi Phi Leh and a real find. Crystal clear water, fine white sand and just big enough to hold 2-3 long tail boats to accommodate. Here one feels almost like on a small, deserted island.
How to get to Lo Sa Ma Bay:
The beach of Lo Sa Ma Bay is reachable only by boat. It is best to book one of the tours for about 400 Baht to Koh Phi Phi Don and I watch a few more beaches and coves, where this bay is also on the program. The second option would be hiring a driver with own Longtailbootes on Koh Phi Phi Don. Here the prices are up at 2000 baht.

---
6. Maya Beach, Koh Phi Phi Leh
Even if the beach is as well known as almost no other in Thailand, he is for me still one of the best in the Krabi region. Fine, white sandy beach, crystal clear, turquoise water – a dream! Was selected that the beach for the filming of the movie "The Beach" is not a miracle for me. A beach that everyone should have seen Thailand Visitors times – at least at the right time. 😉
How to get to Maya Beach:
Also this beach can only be reached by boat. There are many guided tours to the beach. Boats come from everywhere: from Krabi, Phuket or Koh Phi Phi Don and bring thousands of day-trippers on land.
Tips to Maya Bay:
Charters you from a private longtail boat from Koh Phi Phi Don and ride in the early morning to Koh Phi Phi Leh. Then the Maya Beach is relatively deserted and you still have plenty of room to swim or shoot photos and above all to enjoy. Departure place best to 8.00 clock in the morning – then you are around 9 clock on site. From about 11 clock is the beach crowded with day-trippers. Price as at the Lo Sa Ma Bay from about 2000 baht. It is helpful to inspire a few more people for the trip, then you can share the costs nicely.

---
7. Klong Dao, Koh Lanta
The most beautiful beach on Koh Lanta for me. Gently sloping, soft sand and great water located in a really beautiful bay. When I was there in late April only a few local children were playing on the beach. Nice and quiet and great for swimming. A must visit on Koh Lanta.
How to get to Klong Dao:
Klong Dao is the nearest beach to Ban saladan, where all the people who visit the island arrive. From there you can take "Songtaew" for about 40 baht a taxi. If you stay a few days on the island, it is definitely advisable to rent a scooter to explore Koh Lanta – costs about 150-200 baht per day. Travelling by scooter is of course even easier.
---
Author Info: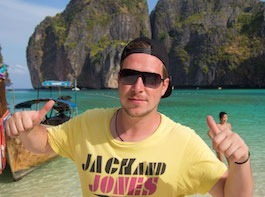 Tobi is a 29 year old travel blogger and mostly around Thailand. Southeast Asia generally has him very excited and the countries he has not visited, are already on the list. This year he starts by a digital nomad and therefore builds his travel blog Home is where your bag is, he runs together with Marcel. On the website you will find all kinds of travel stories, of course, mainly from Southeast Asia, and many useful information about traveling and in future also the topic of digital nomads. If you want to stay up to date with what Tobi trips of the next few months, then have a look agh their website: Home is where your bag is
(Visited 8,826 times, 1 visits today)