Available in: German
Hotel search Asia: There are many Hotels all over the world. Filter out the best offer is challenging many people. Often the images on the website do not approximately match the reality, or the property was ultimately a disappointment. In this article, I present my favorite search engine for the Asian region. This allows you an easy hotel search and gives you the possibility to book cheap and especially good hotels.
Finding good and cheap hotels in Asia – Agoda search engine
As Asia traveler you should definitely have Agoda.com on the screen.
Unfortunately, I learned this search engine much too late to know. While I was waiting at an airport, I came up with a nice man from Germany. We talked about our travel plans and he began to tell me about Agoda. I did not know Agoda and he lifted the secret: It's a hotel booking portal that specializes in Asia and Southeast Asia.
A few days later I was in the position to book a hotel in advance. So I went to Agoda and was immediately impressed!
At Agoda you can find everything from the cheap backpacker accommodation to the luxury hotel skyscraper. Who does not find it here, will find nowhere. Agoda is the best hotel search Asia engine.
Sometimes I have found beach bungalows for less than 5 Dollars per night. Most providers and search engines simply do not offera lot of asian hotels and accommodation. Due Agoda is specialized on Asia, it does!
Special functions of Agoda – Simple hotel search
Agoda is easy to use and always transparent and clear. The hotel search is very simple and it can be searched by location or hotel name. However, the app I like a little better than the website. Strangely, it is me so far not been able to sort by price on the website … Hope update coming soon!
Update 18.9.14: Meanwhile, it is possible to sort by price! Finally!
In the search screen you also have the option to select the accommodations on a map on the desired region. This makes particular easy if you want to stay in a certain area or a bungalow looking directly at your favorite beach.
If you clicked a hotel of your choice, a sidebar that displays all relevant information appears on the left. In addition to the reviews, which usually are really true, also the distance to the nearest airport as well as many other useful boundary information are given. Attractions in the neighborhood and the next transport are displayed as well as recommendations for which the area is particularly well suited.
The booking process was running at me from always very reliable and I can not complain about any problems.
Who wants to travel to Thailand, Malaysia, Singapore, Vietnam, Indonesia and other Southeast Asian countries, comes at the Hotel Search to Agoda probably over barely. I myself use, of course, not only exclusively this page to search a hotel, but grab often and like it, to find accommodation of any kind. In Thailand, Agoda has always worked very well for me.
Hotel search asia: Go to Agoda now
---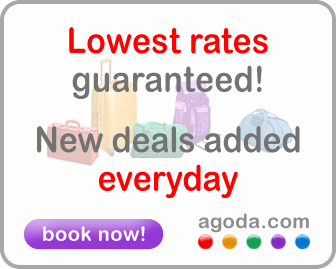 (Visited 331 times, 1 visits today)