Available in: German
Koh Samui is one since the devastating tsunami in 2004 among the top destinations of Thailand. The destruction in the popular tourist areas of the Andaman Sea could flourish only really the unspoilt east coast of Thailand. Especially the paradise island of Koh Samui experienced a real boom.
What there is plenty to do on the island and a small overview of the beaches of Koh Samui here in travel magazine Koh Samui.
All information about Koh Samui, Thailand
All about Koh Samui:
Koh Samui or Ko Samui has developed into one of the most obese holiday islands of Thailand. It is to Phuket, the busiest island in Thailand. Koh Samui has something for everyone. Party fans will also get their fun like people who are just looking for relaxation. The main tourist season is from November to January.
The History of Koh Samui: Koh Samui has been inhabited for more than 1500 years ago. At that time, supposedly Chinese sailors had a post set up to repair their ships and take drinking water. In 2004, the sudden rush of tourists doubled and the otherwise popular with backpackers old Koh Samui grew steadily until today to fully developed tourist island further.
Traditionally, in addition to tourism and fishing as well as the coconut export the main industries on the island. The nickname "Coconut Island" stems from the fact that every month about 2 million coconuts are exported, which are known for their high quality throughout the country.
---
Climate and weather Koh Samui:
Koh Samui is located in the tropical zone. The climate is humid and warm all year round. The temperatures are around 30 degrees all year round. The water temperatures are steadily with 28 degrees in very pleasant area. From February to April the sea is calm. Generally showers are usually short-lived. For these, however, are usually severe. Even during the rainy season remains Koh Samui often spared from prolonged periods of rain. Therefore, a trip to Ko Samui offers even during the rainy season. A "rain hole" as in the Andaman Sea is not on Koh Samui.
Koh Samui / Koh Phangan, Thailand
| | | | | | | | | | | | | |
| --- | --- | --- | --- | --- | --- | --- | --- | --- | --- | --- | --- | --- |
| Koh Samui | Jan. | Feb. | Mar. | Apr. | Mai | Jun. | Jul. | Aug. | Sept. | Oct. | Nov. | Dec. |
| Max. Temp. | 31 | 32 | 32 | 33 | 33 | 32 | 32 | 31 | 31 | 30 | 30 | 30 |
| Min. Temp. | 24 | 23 | 24 | 25 | 25 | 24 | 24 | 24 | 24 | 24 | 23 | 23 |
| Sunhours | 9 | 10 | 10 | 10 | 9 | 8 | 7 | 7 | 7 | 6 | 7 | 7 |
| Rainy days | 8 | 4 | 3 | 5 | 9 | 16 | 15 | 16 | 15 | 17 | 18 | 11 |
| Watertemp. | 27 | 27 | 27 | 28 | 29 | 29 | 29 | 29 | 29 | 28 | 28 | 27 |
---
How to get to Koh Samui:
You can get to Koh Samui Koh Samui with different means of transport. Here are the best ways to Koh Samui:
Airplane:
The island has an international airport. This is constantly being expanded and will include one of the most beautiful airports in the world. Many direct flights to Koh Samui already exist. Thus, there are for example direct flights from Bangkok, Phuket, Pattaya, Krabi, Hong Kong or Singapore.
Flight to Koh Samui here
Train to Koh Samui:
From Bangkok, traveling by train is also possible. This type of journey is a lot cheaper than flying, but requires much more time. The train ends in Surat Thani. From there, the rest of the way by bus and ferry must be covered.
Bus to Koh Samui:
Bus services to Koh Samui are set from all possible parts of the country. Bus rides are also very low, but also take a lot of time. The travel comfort can be greatly influenced by the choice of different bus categories. Even when traveling by bus must be switched to the ferry at Don Sak pier.
All about how to get to Koh Samui
---
Transportation on Koh Samui:
On Koh Samui there is virtually no public transport network. Taxi driving is usually unavoidable here. The rides with the taxis are quite expensive, since driving on Koh Samui still with petrol instead of gas, which costs considerably more. Fares around 500 baht are difficult negotiable during the peak tourist season. It seems somehow to play no matter where the journey goes … The taxi meter as it's common in Bangkok, there is not here!
A great alternative to explore the island is to rent a private means of transportation. Jeeps and scooters would be suitable. With these, one is of course very flexible and can the island completely explore at leisure on your own. Prices start at 150 Baht per day / scooter.
Tip: The 50-kilometer ring road runs all the way around the island and allows it to discover one each attraction itself. The ways to special places are always adequately signposted.
---
Sightseeing on Koh Samui:
Big Buddha Koh Samui:
The Big Buddha is probably one of the tourist attractions such. Daily pilgrimage through thousands of people here. Worth the Big Buddha statue is still. The statue is just beautiful.
Grandfather and Grandmother / Hin Ta and Hin Yai:
Rock Formation near Lamai Beach (Southern end). Nature has here created two rocks that look like a penis and a vagina. And even right next to each other. Was that really the nature? Coincidence or not? I dont know. Nearby is the Lamai Viewpoint. A climb for 10 baht worth it. The view over Lamai Beach is amazing.
Na Mang Waterfall:
Beautiful large waterfall in the inland of the island. Definitely worth it for a little trip.
More waterfalls on Koh Samui:
At each corner are any road signs that lead to waterfalls. Most are very unspectacular and not worth the often long marches in the jungle! The best and largest is really the above Na Mang waterfall. If you have nothing else to do, you can also visit the others.
The mummified Monk – Temple Wat Khunaram:
The temple complex is not particularly spectacular, but here the mummified body of the monk Lounge Pordaeng is issued.
Nuan Na Ram Temple (Wat Plai Leam):
Only about 2km away from the Big Buddha statue, invites one of the most beautiful temples to visit. The ornate statues and the fish pond in the middle of the resort are absolutely worth seeing and worth a visit in any case. Admission is free, but the monks gladly accept a small donation to keep the plant in its beauty.
Crocodile, elephant and snake farms on Koh Samui
Of Course there are on Ko Samui several snake and crocodile farms. I have not visited them. However, a small trip to the elephant farm can be fun. Here you can for around 600 baht ride elephants. The tour takes you through the jungle and makes it somehow fun. The elephant farm where I was is very well kept and very nicely laid out.
Daytrip to Koh Phangan and Koh Tao:
In really any travel agency innumerable day trips are offered. From snorkelling trips to Kayaktrips and deep sea fishing, anything is possible. Guided tours to the Main Attractions or Jungle Offroading are sufficient to present. Whether you want them to take, or wishing to explore the island itself, everyone must decide for themselves.
But really worth is a day trip to Koh Phangan and Ko Tao in connection with snorkeling. The trip costs around 2500 baht, making it relatively more expensive, but it is with speed boats traveling that require only a fraction of the time to the goals than the normal excursion boats. Catering and equipment are included in the price.
Mu Ko Aang Thong National Park:
The National Park is a marine area, which is very close to Koh Samui. Many day trips are offered out here. Snorkeling, kayaking or extended shore excursions are highly recommended depending on the booked program. Flora and fauna are unique. Many exotic animals can be observed here. Lizards, pythons but also monkeys and sharks have their natural habitat here.
---
Beaches on Koh Samui:
Chaweng Beach:
The most famous beach on Ko Samui and thus the main beach of the island. There are chairs close together and very many hotels and resorts have settled here. Nice it is here anyway. But who likes it quiet, should look for another place.
Chaweng Beach -> Beach Party
Lamai Beach:
The Lamai Beach may well be called 2. Main Beach after Chaweng Beach. However, there is a lot more relaxed about here! The beach is very clean and really nice. All along the beach is lined with hotels and beach bungalows in all price ranges.
Silver Beach:
Close to Ban Lamai is the legendary Silver Beach. It is one of the most beautiful beaches on all Ko Samui. There are virtually no resorts and hotels located. Only one restaurant with an attached massage bungalow can be found here. Silver Beach on Koh Samui is definitely worth a visit and absolutely free sun beds and parasols. It's all very very relaxed and calm.
Silver Beach Ko Samui: Zweifellos einer der schönsten Strände. Keine Liegen!
Maenam Beach:
Rather quieter recreation beach in the north of the island. The beach is really nice and a great place for families with children. Some luxury hotels and resorts have settled here. At this beach sections, we accordingly less lonely.
Bo Phut Beach:
Bo Phut Beach is one of the quietest beaches on Ko Samui. The beach is ideal all year round to swimming and surfing. The place Fishermans Village is an old fishing village right on Bo Phut Beach, and has its own unique charm.
Big Buddha Beach:
The small bay is overlooked by the Big Buddha Statue and the Big Buddha Pier is located in the immediate vicinity. The beach is relatively narrow. On Big Buddha Beach located just a few hotels have settled. It's too quiet. However, the Big Buddha Beach is located relatively close to the tourist center of Chaweng and offers the possibility of a quick side trip there. Those looking for the classic dream beach should rather resort to the other.
---
Nightilfe on Koh Samui:
The nightlife on Ko Samui is extremely varied. Party people spend their evening in Chaweng, if you like it a little quieter, can relax on one of the many beach bars.
Nightlife Chaweng:
Chaweng Beach is the party capital of the island. Many clubs and discos invite you to a party until the early morning hours. The countless Lady-bars and GoGo Clubs prevent boredom. In Chaweng it's really every night to the point. If you prefer something quieter, should avoid at least the party area around the Green Mango.
Most of the audience runs around the Soi Green Mango in the city center of Chaweng. Here, next to the famous nightclub Green Mango also the Mint Bar and an Ice Bar have settled. All around there are many Lady bars.
The second hotspot is the area around the Soi Reggae. Here the Reggae Pub, one of the oldest nightclubs located on Koh Samui on Chaweng Lake. Again, many Lady- and beer bars have settled and vie for the attention of male tourists. Situated at the entrance of Soi Reggae also the Muay Thai Boxing Stadium on the island is par excellence. Here fight from 9pm clock real professionals. The Soi Reggae is within easy reach of the Soi Green Mango on foot.
Nightlife Lamai Beach:
Also Lamai must definitely hide. However, this is about a lot quieter. The evening bustle is not quite as big here. There are mainly pubs and beer bars located in the area of the center. A Food Market can be found here every night. Also located in this region, the Fusion Club. This nightclub is full but usually only at a very late hour. Many ladies who work at the beer bars, leave here having evenings end. Otherwise, the swing bar is right on the beach for pleasant stay a while and has now become a popular meeting place. Everything is within easy walking distance. Every Saturday night in the center of Lamai place a free Muay Thai event, which is quite entertaining. However, you should buy a drink at one of the many surrounding bars.
Beer Bars in Lamai:
-Centre of Lamai at Muay Thai Ring
-Right to Mc Ronalds
-At the end of Lamai on right side
---
Safety on Koh Samui:
The biggest danger on Koh Samui is based on traffic. Accidents involving serious injury are commonplace.
Raids and fisticuffs happen only rarely and then only take place if the nightlife. From drunken tourists from all over the world here is probably the greater danger.
Chance can lead to theft. Cheap Bungalow resorts are occasionally broken into and ransacked.
But this is all just an exception and limited as already mentioned, most of the nightlife in Chaweng Beach.
In general, Koh Samui can be described as extremely safe. Especially in the quieter places and the family areas there is an extremely low probability of being a victim of crime.
---
Eating on Koh Samui:
In virtually every place on the island there are several 7 Eleven markets. There you can buy cheap water and other useful things for everyday life. In addition to countless restaurants, there are also the highly recommended food stalls and food markets as good as anywhere. A self-catering never poses a problem. The prices in the food stalls are all on normal level.
On the beaches at night Tables and chairs are set up. This can now be eaten in a relaxed atmosphere. Usually the beach restaurants, which it really gives as good as any beach are a bit more expensive. Here you pay for the atmosphere.
---
Recommondation Koh Samui:
Big Buddha – Chaweng Nightlife – Lamai Beach – Silver Beach – Na Mang Wasserfall – Nightlife Lamai – Nuan Na Ram – Scooter Tour around the Island – Snorkeling
Map Koh Samui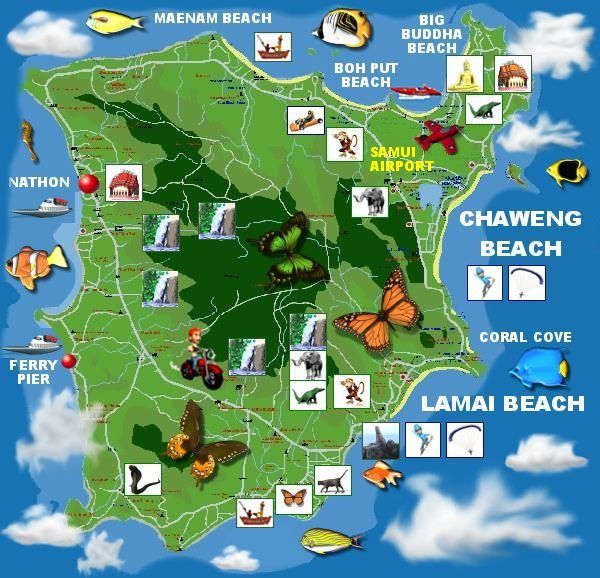 (Visited 5,601 times, 1 visits today)